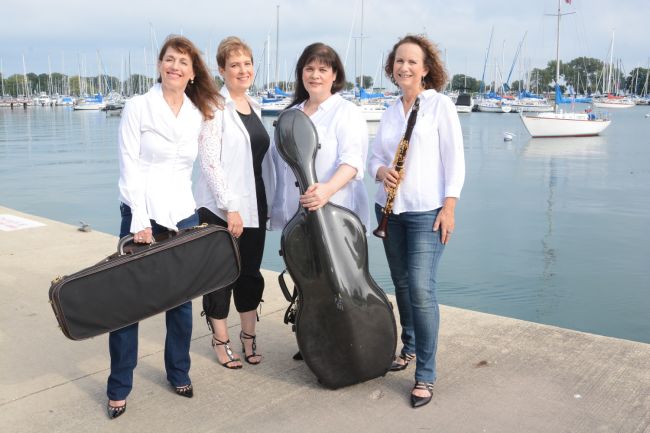 Welcome to our 27th season!
We promise once again to surprise you with interesting and diverse repertoire that combines the classic and the contemporary. We start with the 250th celebration of Beethoven's birthday, performing his Serenade in D Major for string trio. We'll continue with exciting new works and composers, including Robert Rodriguez's duo for bass clarinet and marimba, Ugandan composer Justinian Tamusuza's quartet arranged for clarinet and strings, works by Lili Boulanger for piano and strings, a clarinet quartet by classical composer Bernard Crusell and a duo for violin and viola by Alessandro Rolla. In addition, you'll hear many treasured masterpieces, including Schubert's Piano Trio in B-flat Major, Mozart's Clarinet Quintet, Dvorak's Piano Quartet and Schumann's Piano Quintet.
Joining us this season are three guest artists sharing their incredible artistry: violinist and violist Stephen Boe, violinist Mathias Tacke and percussionist Josh Graham.
We look forward to welcoming each and every one of you to hear this glorious music. Thank you for supporting live chamber music performance!
— Florentina, Kathy, Judy and Diana
News
Chicago Composer Sebastian Huydts discusses collaborating with Orion, in our February newsletter.
Student musicians learn from Orion
Hear Orion perform live on the program Live from WFMT tonight, Monday, Nov. 18. at 8 pm.
How do we create our concert programs? We talk about it in our November e-newsletter.
Get to know Guest Artist Josh Graham, joining Orion on Marimba and Percussion.
Learn more about Nadia Boulanger—an overlooked musical artist, here.
Our performance venues each have special qualities. Read more in our September e-newsletter.
Our May e-newsletter features a Q&A with violist Stephen Boe.
Read the Q&A with Orion cellist Judy Stone in our April e-newsletter.
Check out a Q&A with Orion pianist Diana Schmück in our March e-newsletter.
Read a review of Orion's Sept. 23 concert, by Chicago Classical Review.
Third Coast Review published a major feature on Orion— a look back at our history.
The Chicago Tribune interviewed Ensemble members Kathryne Pirtle and Diana Schmuck, as well as frequent guest violist Stephen Boe, for a story published before our season-opening concerts. Read the article here.
Check out Orion's September e-newsletter - a Q&A with Orion clarinetist, executive director and co-founder, Kathryne Pirtle.
Read a Q&A about the guest artist on our November concert series, cellist Ian Maksin.
Orion violinist Florentina Ramniceanu is featured in a Q&A in our November e-newsletter.